Hygienic design and finishing, compliance with the EC 1935/2004 directive.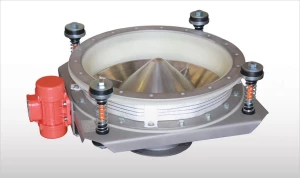 The BAF by EXTRAC is the ultimate Bin Activator specifically designed to meet the requirements of the food industry. With its hygienic design and finishing, it complies with the EC 1935/2004 directive and is suitable for a variety of applications in food processing.
The BAF Bin Activator for Food Applications is a device of tapered conical shape that, due to vibration, facilitates material flow from hoppers or silos during discharge.
Manufactured from stainless steel, the BAF Bin Activator line offers a high surface finishing grade. The mating parts are continuously welded on both sides, deburred and smoothened on the edges, niches, cracks, and crevices, thus obtaining a perfectly smooth surface. As a result, material residue is reduced to the minimum.
BAF Bin Activators consist of a seamless 304L or 316L stainless steel cone manufactured on a sheet metal lathe, a seamless gasket with integrated upper and lower flanges manufactured from food-grade SINTAL engineering polymer, suspensions connecting the Activator with the silo cone, as well as one or two electric motovibrators by OLI.
The BAF Bin Activator for Food Applications is the ideal choice in terms of quality, assurance and reliability for applications requiring safety and consistent material discharge.
It has been specifically designed to work in applications where minimum material residue is required and contamination has to be strictly avoided.
Traceability of all parts of the Bin Activator in contact with the material is ensured by certification according to (EC) No.1935/2004.