F-series Cushioned Pneumatic Vibrators are a great alternative to magnetic vibrators for feeder applications.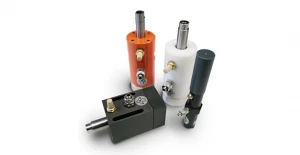 With F-series Cushioned Pneumatic Vibrators vibration is generated by the movement of an internal floating piston rather than by impact between surfaces. Adjustable forces with weights (not supplied) can be mounted using the threaded bore at the end of the shaft.
Recommended for coarse particle materials compacting in applications, the F-series is available in different sizes, materials shapes to satisfy a variety of requirements.
Working pressure ranges between 2 6 bar (29 ~ 87 psi) while operating temperature may reach 200 °C (392 °F).
In compliance with ATEX EX II 2DG cT(x), Cushioned Piston Vibrators are suitable in explosive environments.