SU-type Screw Feeders match the shape of the silo outlet. The trough section is coupled to a tubular section for efficient material feeding towards further processing.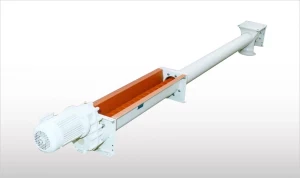 Some powders or granular materials are so poorly flowing that they cannot be stored in silos with a circular outlet cone requiring storage in silos with a steeper cone and an oblong outlet opening.
According to the cross section of the silo outlet, SU-type Single Shaft Screw Feeders are available with standard U-shaped or with flared V-section trough. In a light-duty version, SU-Feeders are used for flour and materials with similar bulk density and properties. For animal feed and similar products a heavy-duty version is available.
SU Screw Feeders are available with ATEX, Zone 22 certification.