The RG lump breaker is a single- or double-shaft lump breaker designed for agglomerated materials and chemicals with small capacity (range 2-6 t/h).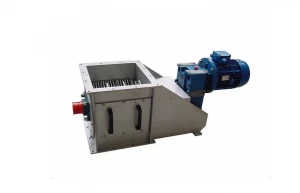 The design is available in CS or AISI stainless steel.
Optionally, a screen can be installed at the bottom discharge.
Due to its working principle, this machine is suitable to process also materials with a high moisture content.
The drive of the lump breaker can be provided with a torque-limiting device that automatically stops the machine in case of ingestion of hard pieces or metals.